Skip Main Content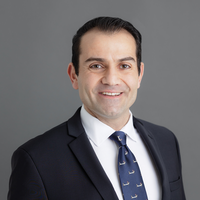 John Tumeh, MD
ROLE:
Founding Psychiatrist
SPECIALTIES:
LANGUAGES:
WE CARE ABOUT YOUR FEEDBACK!
Please take a moment and let us know how your experience was.
REVIEW US
Meet John Tumeh, MD
Education & Training
Dr. John Tumeh is a Diplomate of the American Board of Psychiatry and Neurology with board certification in Adult Psychiatry. He earned his Bachelor of Arts from the College of William and Mary, followed by earning his Doctor of Medicine (M.D.) from the University of Virginia School of Medicine. He subsequently completed residency in General Adult Psychiatry at University of Pittsburgh's Western Psychiatric Institute and Clinic.
Dr. Tumeh has vast experience treating the full spectrum of psychiatric disorders including but not limited to Mood (e.g. Depression, Bipolar Disorder), Anxiety, Personality Disorders, Addiction, Psychotic Disorders, Personality Disorders, Eating disorders, Geriatric Psychiatry, Dementia and more.
Psychotherapy, the "talk therapy" used in psychiatry, is an integral part of his practice. Dr. Tumeh has extensive experience in various forms of psychotherapy including Psychodynamic, Cognitive Behavioral, Interpersonal, and Family therapies in addition to Motivational Interviewing and Couples therapy.
Philosophy of Healing
Healing of the psyche, the Greek word for "soul" or "spirit" requires that one attend to his/her spiritual, moral, psychological, biological and social/environmental states. These domains are interconnected and highly influence one another. A patient in need of healing will often return to and address his/her foundational and guiding principles and truths to "reset" his direction. Next, the patient will benefit from psychological work with a professional to adequately address and correct any faulty thinking patterns that may be negatively impacting his/her wellbeing. When necessary, medications are used to augment this work by correcting for biological problems that may be contributing to pathology. Finally, regular exercise when possible is very helpful for maintaining a healthy psyche.
Clinical Approach
Dr. Tumeh meets people in whatever psychological state they are in. He listens to their problems and asks questions to further delve into their struggles and to arrive at root issues and sources of conflict. Such issues include past and current experiences (e.g. upbringing, family dynamics, trauma, biological underpinnings, etc.), cognitive distortions (e.g. unhelpful patterns of thinking) among others. He works with patients to explore ways of addressing and overcoming sources of conflict and tension and assists them in developing more effective ways of coping. When necessary and helpful, he augments his work with the use of psychiatric medications.
Education
Western Psychiatric Institute and Clinic, UPMC

Residency & Research,

General Psychiatry

2009 - 2013

University of Virginia School of Medicine

Medical ,

Doctor of Medicine

2005 - 2009

The College of William and Mary

Bachelor of Arts,

Economics

1999 - 2003
Work Experiences
Consulting Staff

Piedmont Atlanta Hospital

2016 - 2021

Owner

2015 - Present

Consulting Partner

Samaritan Counseling Center of Atlanta

2016 - Present

Volunteer

Mercy Care of Atlanta, Georgia

2015 - 2016

Member Manager

Tumeh Psychiatric Services, PLLC

2014 - 2015

Director of Behavioral Health

FOCUS Pittsburgh Free Health Center (FPFHC)

2012 - 2014

Provisional Associate Staff in the Department of Medicine

Uniontown Hospital in Partnership With UPMC

2013 - 2014

Research Assistant at the Center for Oncology Informatics

Winship Cancer Institute at Emory University

2004 - 2010

Teacher

2004 - 2004
Professional Affiliations
Member

Professional Advisory Board: Skyland Trail

Director

Psychosocial Ministry Team: FOCUS Pittsburgh Free Health Center

Member

Board of Directors: Mental Health America of Allegheny County

Member

Advisory Council of the Center for Workplace Mental Health: American Psychiatric Foundation

Elected Member

Parish Council: St.George Orthodox Church

Organizer

Residents Case Conferences: Western Psychiatric Institute and Clinic, UPMC

Class Representative, PGY-1

Western Psychiatric Institute and Clinic, UPMC

Member

American Psychiatric Association

Member

American Medical Association

Member

Center for Workplace Mental Health

Member

America Psychiatric Association Foundation
Academic Affiliations
Student Representative

UVA Health Sciences Institutional Review Board (IRB)

Co-Founder

Medical Economics and Policy Lecture Series

Project Initiator

Shipment of Medical/Surgical Supplies to Iraq
Awards
Magna Cum Laude Graduate

The College of William and Mary

2003

Member

National Society of Collegiate Scholars

Member

Scholars, Golden Key National Honor Society

Member

Omicron Delta Epsilon: International Honor Society in Economics
Thank you for subscribing!
You will receive important news and updates from our practice directly to your inbox.
Thanks!